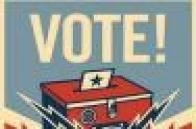 Nevada County Voter Election Survival Checklist here
Nevada County drop box and vote center locations here

Op Ed on cross over voting here
California Secretary of State Voter Resources informationhere
Are you registered to vote? Do you want to change your party, your address, your name?  You can register online or at the register at the DMV, post offices, or libraries.
      Check your voter status here
      Register to vote here 
Key in your address and zip code, see the contests on your ballot.  Voter's Edge California provides unbiased, in-depth voting information on candidates, ballot measures, campaign funding info and a high quality Spanish translation for State and Federal races.  All of the League Voter Service publications are on Voter's Edge California, including the Pros & Cons and the Easy Voter Guide.
     Your ballot on Voter's Edge here 
2020 Primary Election Candidate forum videos:
   California State Assembly District 1 forum video here
   Nevada County Board of Supervisor District 1 forum video here
   Nevada City City Council forum video here
   US Congress District 1 forum video here
   California State Sentate District 1 forum video here
LWV California measure pros and cons here   (to be updated)
LWV California ballot recommendations here  
LWV California Easy Voter Guide here   
Read additional information on candidates and measure here  (to be updated)

Learn about Voter's Choice Act here