Sometimes it's hard to keep apprised of all the issues that impact our community. The selection of stories below makes it easier to stay aware of what's happening around you. Click on the red links for a recap of important events, alerts, and updates.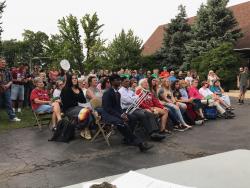 "Strong Turnout at the Elmhurst Climate Strike"
Ahead of the UN Climate Summit in New York City, people across the globe are demanding transformative action. Specifically, they want world leaders to address the reality of climate change.
As the photo to the right reflects, #STRIKEWITHUS has resonated locally as well. On September 19, 2019, an
Elmhurst climate strike
was held outside the Elmhurst Presbyterian Church (367 Spring Road). 
Though the LWV Elmhurst did not organize this event, various members were in attendance. For more on the League's positions and advocacy efforts related to climate change, click
here
. 
League to which this content belongs:
ELMHURST