NEW ORLEANS, LA—Today, the US Court of Appeals for the Fifth Circuit issued a stay in Richardson v. Texas Secretary of State, which denies voters a timely opportunity to cure their mail ballot in the 2020 general election. The decision reverses a September US District Court ruling that had required the State to notify voters within a day of their ballot being rejected due to a signature match issue and give them an opportunity to fix the mistake.  their ballot being rejected
"Today's decision is deeply disappointing because it allows the State to shirk its responsibility to ensure that each vote is counted during an incredibly important election while a deadly global pandemic rages on," said Grace Chimene, president of the League of Women Voters of Texas. "To prevent voter disenfranchisement, mail ballots that are rejected due to a signature mismatch ought to have the opportunity to be cured. We call on Texas counties to commit to notifying voters in cases of signature mismatch as soon as possible before Election Day, and to fight for voters' ballots to be counted—in court, if need be." 
Under current law, the State has until 10 days after Election Day to notify absentee voters of their ballot rejection status. However, today's decision does not prohibit local election officials from notifying voters as soon as possible if there is an error on their mail ballot. The League strongly urges voters to immediately reach out to their early voting clerk if they get a notice of rejection due to signature mismatch.   
"Nearly 80 million eligible voters nationwide will be casting their vote by mail this year. Without proper notice and an opportunity to cure their ballots, these voters face disenfranchisement," said Celina Stewart, chief counsel and senior director of advocacy and litigation at the League of Women Voters of the United States. "States across the country have newly implemented notice and cure systems this year, while Texas was asked to do so back in 2019. Every voter deserves to be able to cast their ballot with confidence, and Texas election officials are making every effort to deny Texas voters of that right." 
The League recommends the following steps for voters to ensure their mail ballot does not get rejected in this election:   
Before mailing in your ballot, make sure your signature on the outside carrier envelope matches that on your absentee ballot application.  

Submit your mail ballot as soon as possible in case you get notified that your mail ballot has been rejected.  

If you learn that your mail ballot has been rejected, immediately call the early voting clerk and reach out to 866-OUR-VOTE.    
The case was brought last year by the League of Women Voters of Texas, Austin Justice Coalition, Coalition of Texans with Disabilities, MOVE Texas Civic Fund, and individual plaintiffs Dr. George Richardson and Rosalie Weisfeld. Plaintiffs were represented by the Texas Civil Rights Project. 
"At this point in the election, at this point in a pandemic, the court's decision to prevent a fix to our mail-in ballot system from being implemented is deeply troubling," said Hani Mirza, a senior attorney at Texas Civil Rights Project and lead attorney on the case. "As expected, State has fought tooth and nail to maintain the error-prone signature comparison procedure, which leads to the disenfranchisement of thousands of voters every major election, rather than protect the rights of voters. We encourage county early voting ballot boards to give voters notice as soon as possible of any rejection and county early voting clerks to provide voters whose ballots are rejected for this reason real opportunities to save their votes, because you are closest to the voter, and voters need their counties' help right now. The State in its appeal has decided to forsake voters." 
The Court's ruling to stay the decision requiring the state to provide a notice and cure process only applies to the 2020 general election.  
The League's ongoing challenge of Texas's current law, which requires written notice of rejection to be sent to a voter via mail no later than 10 days after the election, remains to be decided.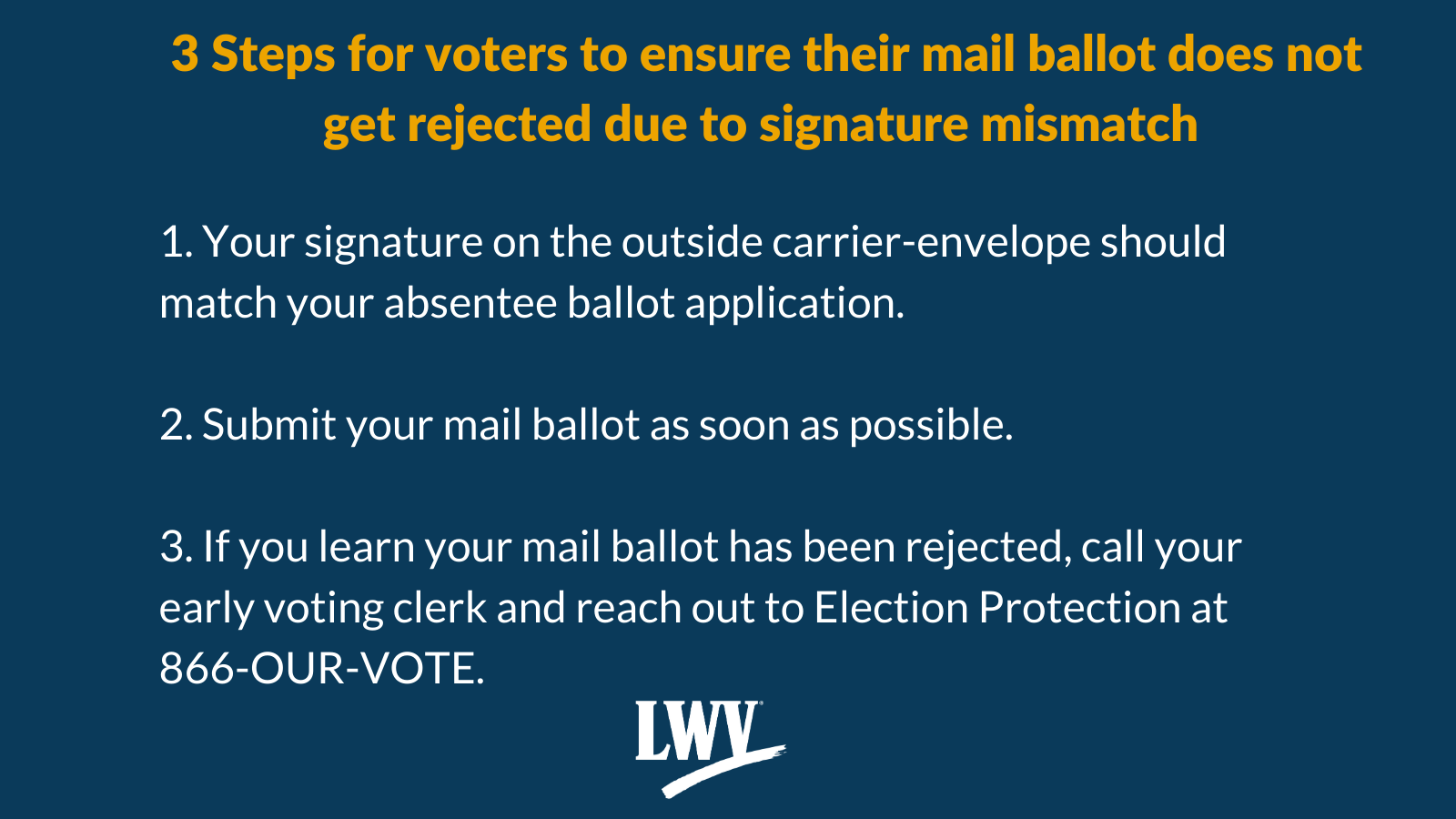 League to which this content belongs:
Texas