Date of Release or Mention:
Tuesday, July 7, 2020
When Governor Abbott issued his requirement to wear face masks, he specifically 
exempted polling places
. His statement on that issue: not having a mask should not impede a voter's constitutional right to vote. We agree!
Every voter should be able to vote safely: if a voter does not have a mask, one should be provided when stepping into the polling place! 
We are in a pandemic. Voters should not have to choose between exercising their right to vote and their health. Many voters have health issues that make them particularly susceptible to Covid-19. The Governor opposed expanding vote-by-mail eligibility during this pandemic. So instead, many voters must go in person to their local polling places. The Secretary of State and county officials have issued protocols to address health risks at polling places. 
Requiring that everyone at the polling place wear a mask is another measure to mitigate the spread of the virus. In times of emergency, such as we find ourselves during this pandemic, the Governor has unique powers that he has had no qualms in exercising. Yet, his face mask exemption at polling places shows not only a lack of appreciation of the public health risk but a missed opportunity to show leadership for the good of all Texans. 
Voting is not a partisan issue; it is an exercise of civic responsibility. Wearing a face mask should not be a partisan issue; it should be an exercise of civic responsibility. Unfortunately, wearing a face mask seems to have become a partisan issue. By singling out polling places as exempted from his face mask requirement, Governor Abbott seems to have chosen partisanship over public health. Email Governor Abbott and tell him to require masks at the polls. Masks can be provided for those who do not have them. You can email him 
here
.
Your vote is important! Show the governor that Texas voters will not be intimidated. 
Wear your mask, maintain an appropriate distance, and bring hand sanitizer to the polls! Vote and get your friends, family, and coworkers to vote! 
Stay safe and be well! Thank you for your support. We have a lot of work to do to Empower Voters and Defend Democracy in Texas!
You can Assist Election Protection!
The July 14th Primary Runoff Election is a great time to practice using our voting power
to not only vote for the best candidates but also to work out the kinks in the new election processes set in place during the time of COVID-19!
Whether you are voting safely at home by mail or voting in person, you can help democracy by taking the time to review what your
county
 is doing in this election to ensure all voters can 
safely vote
. Check your county website and drive by the polling places in your community. Here are things to look for:
Is there a link to Vote By Mail on your county election website?

Do polling locations serve ALL the voters in your community? 

Are the polling places practicing social distancing?

Are election workers wearing face coverings?

Is there hand sanitizer available?

Is curbside voting offered?

Are 

CDC guidelines on safe voting 

followed?
If you see a problem at the polls, please call the Election Protection hotline: 866-OUR-VOTE.  And share any issues with your local League president and with the League at 
lwvtexas

[at]

lwvtexas.org

()
.
"You can be the eyes and ears of your voting community. Take photos and videos to help explain the situation. 
gchimene

[at]

lwvtexas.org

(Send them to me!)
" says LWVTX President Grace Chimene,"
I love photos of lines of happy (or grumpy) voters wearing masks!"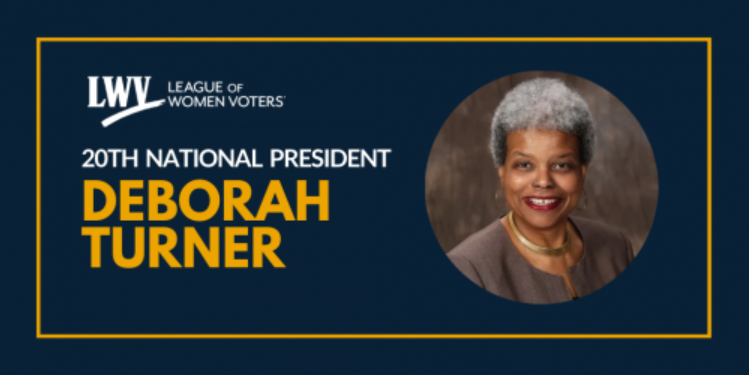 LWV Texas at the LWV National Convention
Over 70 Texas League members participated in the 
Jun 25-27, 2020 LWV National Convention 
commemorating the League's 100 Year Anniversary. Half of the Texas participants were official delegates and half of them participated as observers.
We are very proud of our two Texas League members who have served on the national level. Elaine Wiant (LWV Dallas and LWVTX Treasurer) presented the budget and Karen Nichols (LWV Austin Area and outgoing LWVUS Board member) headed up the Program Committee report.
LWV Dallas President, Diane Tasian reported,"
The credentials report for Plenary! and the closing address of President Deborah Turner. To know that of a possible 1749 delegates, 1267 showed up, resolutely and faithfully worked through the process, and respected all participants. These bookends were a balm to the destructive and divisive political climate that assaults us daily. My "village" is WORKING to Make Democracy Work!"
Leah Massielo, LWV Austin Area delegate, commented on Virginia Kase's speech,"
She was extremely effective, interesting, and honest. What she had to say about what we face as we maintain our non-partisan position in the face of the current politics -- that we would be accused of being partisan because our values SEEM liberal in light of what else is going on in the country -- is really important for all League members to hear."
Delegates recommitted to action on diversity, equity and inclusion in all aspects of the League, as well as renewed excitement about voter education at t
he local and state levels -- taking advantage of more League resources, writing op-eds, and advocating for fair and safe elections.
Find information on the 2020 LWVUS Convention 
here
.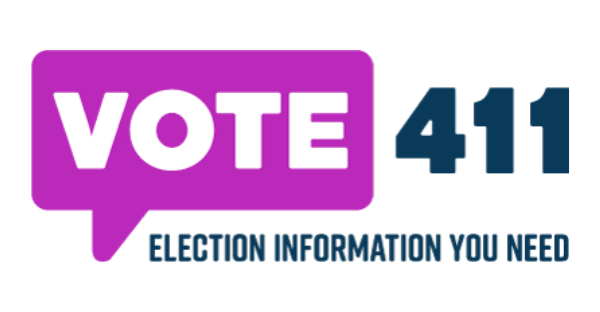 The League's Nonpartisan 
Voters Guide
Available Now!
Use the League's nonpartisan 
Voters Guide
 to see the races and issues on your ballot!
The 2020 Texas Primary Election Runoff Voters in 

English.

El Guia de Elecciones Primarias de Texas 2020 en 

Espanol.

Your own personal Voters Guide is online at 

VOTE411.org.
Accommodations for Voters with Disabilities
The Centers for Disease Control and Prevention data indicate that 
25.6% of adults in Texas have a disability
.
 What are the accommodations available to assist Texas voters with disabilities to participate in the democratic process? With the added threat of the coronavirus, what options are available for Texans with disabilities to vote safely? 
Click
here
 to see the video of the webinar. In addition, staff and volunteers from the sponsoring organizations compiled the questions that were submitted during the webinar into a FAQs document that can be found 
here.
You can find all of this information and more on the League of Women Voters 
Voters with Disabilities web page.
 Share this information widely!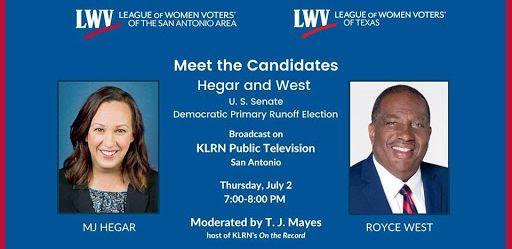 LWV San Antonio Area Hosted Candidate Q & A
Check out the video of the Q & A session 
here
.
League to which this content belongs:
Texas