Great news! Texas voters get to vote on 10 proposed amendments to the Texas Constitution!  
The 
Constitutional Amendment Election Voters Guide
provided by the League of Women Voters explains each amendment, provides pros & cons and a short video for each proposed amendment. YOU decide which will become part of the Texas Constitution. 
Find the Voters Guide on 
VOTE411.org
, the PDF in 
E
nglish
& 
Spanish
,
 & printed Voters Guide at many local libraries. 
VOTE411.org
 allows voters to create their own personal ballot in English, Spanish, Vietnamese or Chinese. 
Our nonpartisan Voters Guide was researched, written, and edited by League volunteers who contacted bill authors, sponsors, supporters and opponents for each proposed constitutional amendment.
Help new voters create a plan to vote! Research the propositions and your polling place on 
VOTE411.org
 -- 
some counties have county wide polling places. It is a great time to get new and infrequent voters to practice democracy by voting! 
Share a social media post! Here are two examples you can use:
Hey Texas Voters!

 Check out 

VOTE411.org to create a your very own personal ballot or your county election website to see if your community has a local election too! #beatexasvoter #vote #lwv www.VOTE411.org
Last day to register to vote for the Nov. 5 statewide election is Oct. 7! #beatexasvoter

I'm registered! I'm voting! AND I'm asking my friends and family to vote! #beatexasvoter 
Together, we can empower voters and defend our democracy! Thank you!
PS: 
I hope to see you in San Antonio to celebrate 100 years of League accomplishments in Texas! Get your tickets today! 
On October 19th, the Texas League will be commemorating 100 years of "organizing, agitating & educating" at the St. Anthony Hotel in San Antonio - where the League was founded on October 19, 1919!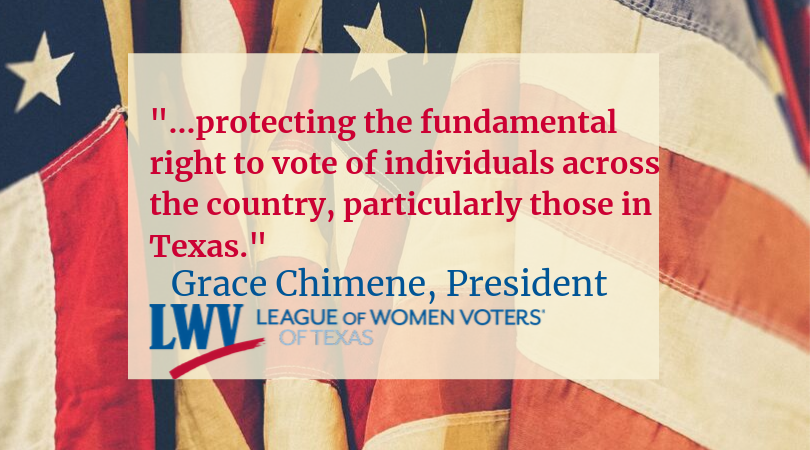 The League in Action! 

Lawsuits, lawsuits and more lawsuits!

 The League of Women Voters of Texas was proud to submit an amicus brief in support of Crystal Mason-Hobbs in the appeal of her conviction for illegal voting. No Texan should be sent to jail for experiencing genuine misunderstanding around what should be treated as a basic right.

 

 LWVTX, along with individual plaintiffs and partners, filed a complaint against the Texas Secretary of State to resolve the unclear and unfair rules for rejecting mail-in ballots in the state. The case is pending in federal court.

 

 On behalf of LWVTX and partnering organizations, the Texas Civil Rights Project filed an amici curiae brief supporting the release of these files to the public. We believe that Mr. Hofeler's files should be made public given that the information contained in those files impacts the fundamental right to vote of individuals across the country, particularly those in Texas.The case is pending in federal court.

 
Teach the Truth Coalition
The League is participating in a coalition headed by Texas Freedom Network, which will make recommendations for the Sex Education curriculum as the State Board of Education updates the Health Curriculum for grades K-12.
League representative Mary Cullinane, APN, (LWV Austin Area) reports, "Texas has spent too much time, money, and effort on a failed abstinence-only approach to sex education. The Teach the Truth Coalition 
report
 has recommendations to update the curriculum with medically accurate, comprehensive, and inclusive information."

National Voter Registration Day - LWV Comal Area
Happy National Voter Registration Day from Rex of the Comal County Sheriff's Office!
He's counting on you to vote this Nov. 5! Texans, you must be registered to vote by Oct. 7 to vote Nov. 5.

You can help redistricting in Texas with the updated Redistricting Action Alert! 
Send an email to your elected officials today! We must work collectively to assure that our redistricting system does not fall short of what Americans are guaranteed by our Constitution. 
Redistricting Hearings:
October 22 &23: Tentatively scheduled for the Houston area
Guide to Writing Your Testimony:
Click
here.
League Redistricting Action in the News:
Fair Maps Texas:
Stephanie Swanson (LWV Austin Area) represents LWVTX as a leader of the Fair Maps Texas Coalition. 
Keep up with the rapid action on redistricting on 
Fair Maps Texas group's Facebook page.

Celebrating 100 Years of LWV Austin Area and...

the Newest Texas League, LWV Williamson County!

 

Last month, the Williamson County Commissioners signed a proclamation recognizing the Austin League of Women Voters 100 years in existence. LWV Austin has been providing voter education to Williamson County for many years. League members from Austin as well as the newest Texas League, LWV Williamson County, were there to celebrate! LWV Williamson County is going by LWV WilCo!

Judge Gravell noted that Jessie Daniel Ames of Georgetown was LWVTX's first President and 100 years later, Williamson County (and Georgetown, of course) became the League's newest chapter.  

L to R: Bill Gravell, County Judge; Valeria Covey, Pct 3 Commissioner; Terry Cook, Commissioner Pct 1 (LWV Austin); Larry Olson (LWV WilCo); Ann Seaman, (LWV WilCo; Karen Eikner (LWV Austin); Joyce LeBombard (LWV Austin); Cynthia Long, Commissioner Pct 2; Russ Boles, Commissioner Pct 4.

 
New LWVTX Diversity, Equity, & Inclusion Committee
LWVTX has enthusiastically embraced the nationwide League commitment to diversity, equity, and inclusion. We are forming a committee to help develop actions and strategies for LWVTX and local Leagues. 
If you would like to be a part of this exciting and worthwhile initiative, please email a letter of interest to Susan Majors(LWV Richardson), LWVTX Education Committee Chair, at 
lwvtexas

[at]

lwvtexas.org

(.)
Board Nominations Deadline: October 31
Are you a creative? Hardworking? Skilled or talented? Are you ready to put those special talents to use volunteering for a nonpartisan 100 year old strong grassroots nonpartisan organization whose mission is empowering voters and defending democracy? State board nominations are due by the end of October! 
Information and Nomination Form
Calendar
October 
November
April
17 to 19, 2020: 

LWVTX Convention in Austin

 
June 
25-29, 

2020

: LWVUS Convention in Washington, DC
League to which this content belongs:
Texas